We all love our furry, slimy, scaly, small, large (you name it) companions. They bring a sense of comfort and joy to not only yourself and others, but to the home as well. A happy, wiggly greeting as you walk in from a hard day's work. A meow and leg rub as you're cooking breakfast. The simple gratitude knowing that these little ones love and depend on you. With that being said, what can you do to make sure your home is the best it can be? Here are a couple tips on making your home, the 'purr'fect home.
Toys Are Your Friend: Sometimes our little friends can get bored. And when there's a bored pet, there's usually damage to your home that ensues. If your pet is a chewer we suggest sturdy, chewable toys like Kong brand items and bones. Rawhides are a good choice due to their chewiness and ease of swallowing, if that occurs. Rawhides, however, can leave residue on carpet and other fabrics so make sure to clean up as soon as possible! Feathers and balls are great for distraction too! Do you have a scratcher? We suggest carpeted posts and covers for couches/chairs if your cat or dog is persistent.
Home in a Home: Your pet also likes a little alone time. A good getaway for some peace and quiet is just what they need! This can be as simple as a bed tucked in a corner or as elaborate as a nook underneath the stairs. Need some inspiration for this? Check out Rodimel Dog House Project. Cat condos also create not only a place for cats to play, but to sunbathe and hide too.\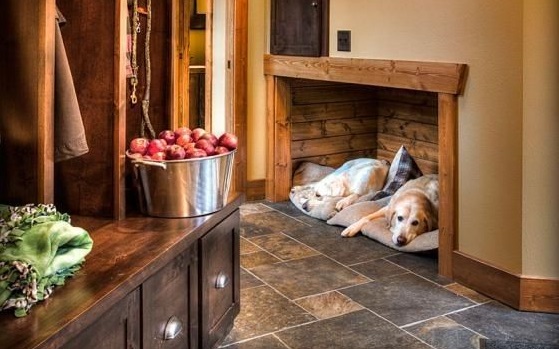 Green Can Be Mean: Remember when picking out plants that some, although pretty, can be toxic to animals. Aloe Vera is on trend right now but did you know it's toxic to animals? We didn't! Keeping these away from animals can also give you an excuse to decorate! A cute macrame hanging planter or a perched plant on a shelf keeps animals safe and your home cozy! Here is a full list of plants to keep out of reach of animals, Toxic and Non-Toxic Plants.
Fine Feathered Friends: The bird's the word around here, but they'll be around for a LONG time. Remember that these guys can live over 30 years. Keep their cages away from windows with direct sunlight or breezy tendencies. A corner placement is preferred to make them feel secure. Do your research as some birds require companions which means a dual package. If you have a bird that mimics, such as a parrot or cockatoo, remember what you say… it can and probably WILL remember and repeat.
Tidy & Neat, A Good Feat: Some of these tips may seem obvious, but we will state them anyway. To keep a clean home, bathe your pets regularly if their breed requires it. Matching fabric color to fur color can hide noticeable shedding on furniture. Rugs are a good way to hide and prevent scratches in hardwood and laminate flooring. Decluttering keeps animals safe and also keeps them less prone to getting into things. Keep treats and food off the ground or keep food in a pet-safe container.
Life is easy when your pets' lives are easy. Remember to do your research before purchasing a pet and know your limits! We hope your pet adventure is a long and filled love. Live long and prosper, pet owners!